History of Cingo
Cingo began in Dublin, Georgia in 1974 as Allgood Pest Control. What started as one man in a small town has grown to a company that spans two states, employs over a hundred professionals and protects thousands of families.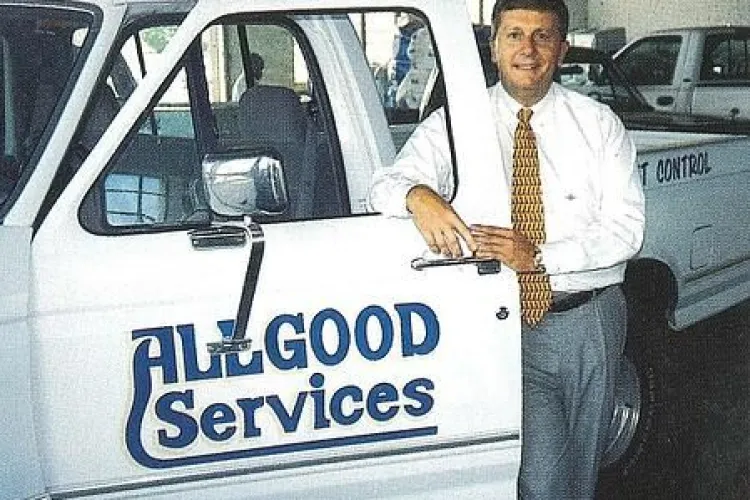 The early days
Originally from Dublin, Jimmy Allgood returned to Laurens County after graduating from the University of Georgia. He was newly married and employed but always knew he wanted to go into business for himself. His hometown would prove ready for a new, independent pest control company. His uncle, R.L. "Red" Tindol, who had started a successful pest control company in the Atlanta area, provided the technical training, and with a local phone book as his prospect list, Jimmy launched Allgood Services, Inc. in March 1974. The company prospered in Dublin and eventually expanded to other towns in middle and south Georgia.

In the meantime, the Tindol's pest control business continued to prosper, but in 1987 Tindol Pest Control sold to Waste Management, which eventually became Terminix. By 1991, the Tindols were dissatisfied with life at Terminix and ready to start another pest control company, but they needed a name. They approached Jimmy to be a partner and—leveraging the success of the Allgood brand—opened Allgood Services of Georgia, Inc. in Duluth. The original Dublin-based Allgood and new Duluth-based Allgood were completely independent companies providing pest control in different geographies.

An updated look for two companies
Jimmy's son Lanny joined the original Allgood company in 2000 after graduating from the University of Georgia School of Law. Under his guidance, the two companies each transitioned to use the tradename Allgood Pest Solutions and introduced a new logo and brand image across both companies. The slogan, "When bugs are all gone, it's Allgood" became synonymous with pest control throughout Georgia, and both companies enjoyed significant growth in their respective markets for the next two decades.

Sharing the Allgood Pest Solutions trade name made strategy and succession planning complex for the two independent companies. As the Tindol group approached retirement age, suitors in the pest control industry emerged interested in purchasing the business, which was predominately in the metro-Atlanta market. CEO Lanny Allgood opted to rebrand the original Allgood company as an opportunity to enter new markets and make way for the eventual sale of the Atlanta company to Rentokil-Steritec.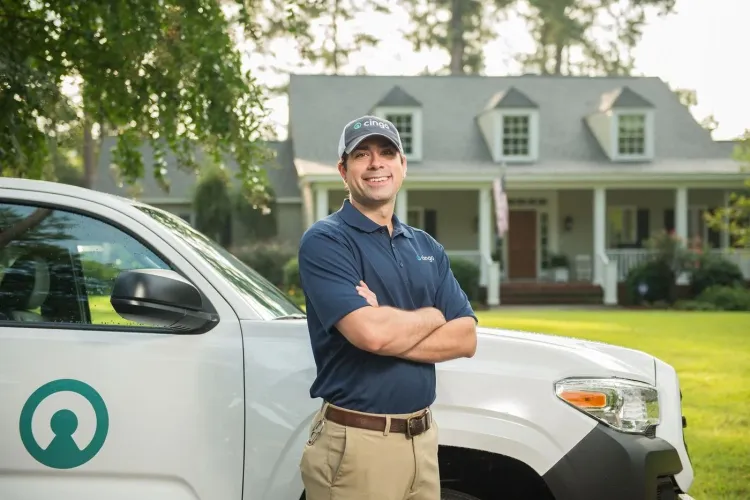 From Allgood to Cingo
The search for a new company name led to Cingo, which literally means to secure and surround, conveying the commitment to protect families, homes, and businesses. Today Cingo operates in markets throughout Georgia and South Carolina. With offices located in Atlanta, Augusta, Charleston, Douglas, Dublin, Milledgeville, Savannah, Vidalia and Waycross, the company serves customers across the entire region.

Protecting families since 1974
A history of home protection
1974
Cingo founded as Allgood Pest Control by Jimmy Allgood in Dublin, Georgia.
2000
Son Lanny Allgood graduates from University of Georgia School of Law and joins company as COO and in-house counsel.
2004
Lanny Allgood named President.
2006
Expansion into Waycross and Savannah markets with acquisition of Southeastern Exterminating and Comet Pest Control from John & Ashley Keiffer
2007
Acquisition of Bert Hall Pest Control begins Cingo's presence in the Augusta area.
2011
Lanny Allgood becomes sole shareholder of Cingo and assumes position of CEO.
2012
Georgia Trend Magazine names Allgood a "Best Place to Work" in Georgia.
2013
Cingo enters Charleston, SC market with acquisition of Pied Piper from Jon Loveland.
2014
Operations in Augusta area double with purchase of Allstate Termite & Pest Control Company from retiring Pete Wilcox.
2017
Cingo opens Sandy Springs office, honored as a Best and Brightest Place to work in Atlanta and later, in the nation.
2018
Cingo expands service offerings to include home inspections to facilitate the sale of residential homes.
2019
The Cornerstone Inspection Group and Building Knowledge, both in Atlanta, merge with Cingo to become one of the nation's largest home inspection firms.
2020
Kevin Sullivan, a 20-year home security veteran, launches Cingo home security, completing the total protection model.